Chelsea Fuller Appointed to NABJ Board as Media-Related Representative
Posted by awilkerson
September 8, 2020 6:49 pm
Chelsea Fuller Appointed to NABJ Board as Media-Related Representative
09/08/2020

Special Issue 2020: Saluting Our 2019 Honorees
09/11/2020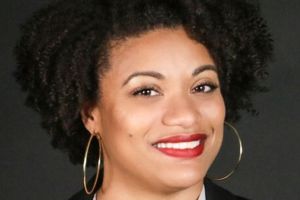 Today, President Dorothy Tucker announced the appointment of Chelsea G. Fuller as the new Media-Related Representative on the National Association of Black Journalists' (NABJ) Board of Directors.
Fuller, whose two-year appointment is effective immediately, currently serves as deputy communications director and media strategist for Blackbird Communications. At Blackbird, she supervises accounts for such clients as the Movement for Black Lives and the 'me too.' Movement. She has also worked with Black Lives Matter, the Dream Defenders, the Organization for Black Struggle, and the Workers Center for Racial Justice. Prior to joining Blackbird, Fuller worked at the Advancement Project, one of the nation's leading civil rights and racial justice organizations. Also an experienced journalist, she is a regular contributor on issues of race, culture, and justice for ESSENCE, Blavity, The Root, and the Huffington Post.
"Chelsea's passion for communications and media strategy will be critical for the work we envision on the NABJ Board. She will play an important role in ensuring that programming for our media-related members meets their needs during this pivotal time," said Tucker. "Her commitment to the growth and advancement of our young members is valued and will also help to enhance our offerings and resources for our emerging members."
Fuller is an active advocate for young journalists. She is an outgoing co-chair of the NABJ Young Journalists Task Force and the founder and three-time co-chair of the NABJ Millennial Media Summit, one of NABJ's premier events. She has been a member of NABJ since the age of 19, participating twice (2009 and 2010) in NABJ's Student Multimedia Project.
Fuller is also the founder of NABJ's first chapter in the state of West Virginia at West Virginia University (WVUABJ). She has used her time as one of NABJ's young leaders to create mentorship opportunities, training programs, diversity and inclusion advocacy efforts, and other resources for members within the first 10 years of their career.
Fuller replaces outgoing Board member Terry Allen, a longtime member, who served as the Media-Related Representative from 2018-2020. A well-respected industry veteran, Allen chaired NABJ's Media-Related Task Force and is CEO of 1016 Media and a Five Star Award-winning senior account executive for FedEx. He has worked 15 plus years in public relations and nonprofit management. NABJ is thrilled that Allen will continue to serve the national organization in a new role, which will be announced in the coming weeks.
-30-