NABJ Brings 2022 Salute to Excellence, Hall of Fame Awards to Vegas
Posted by kstewart
July 12, 2022 3:52 pm

#NABJNAHJ22 Mask-Wearing Requirements
05/29/2022
NABJ Announces 2022 Hall of Fame Inductees and Special Honors Awards Recipients
07/15/2022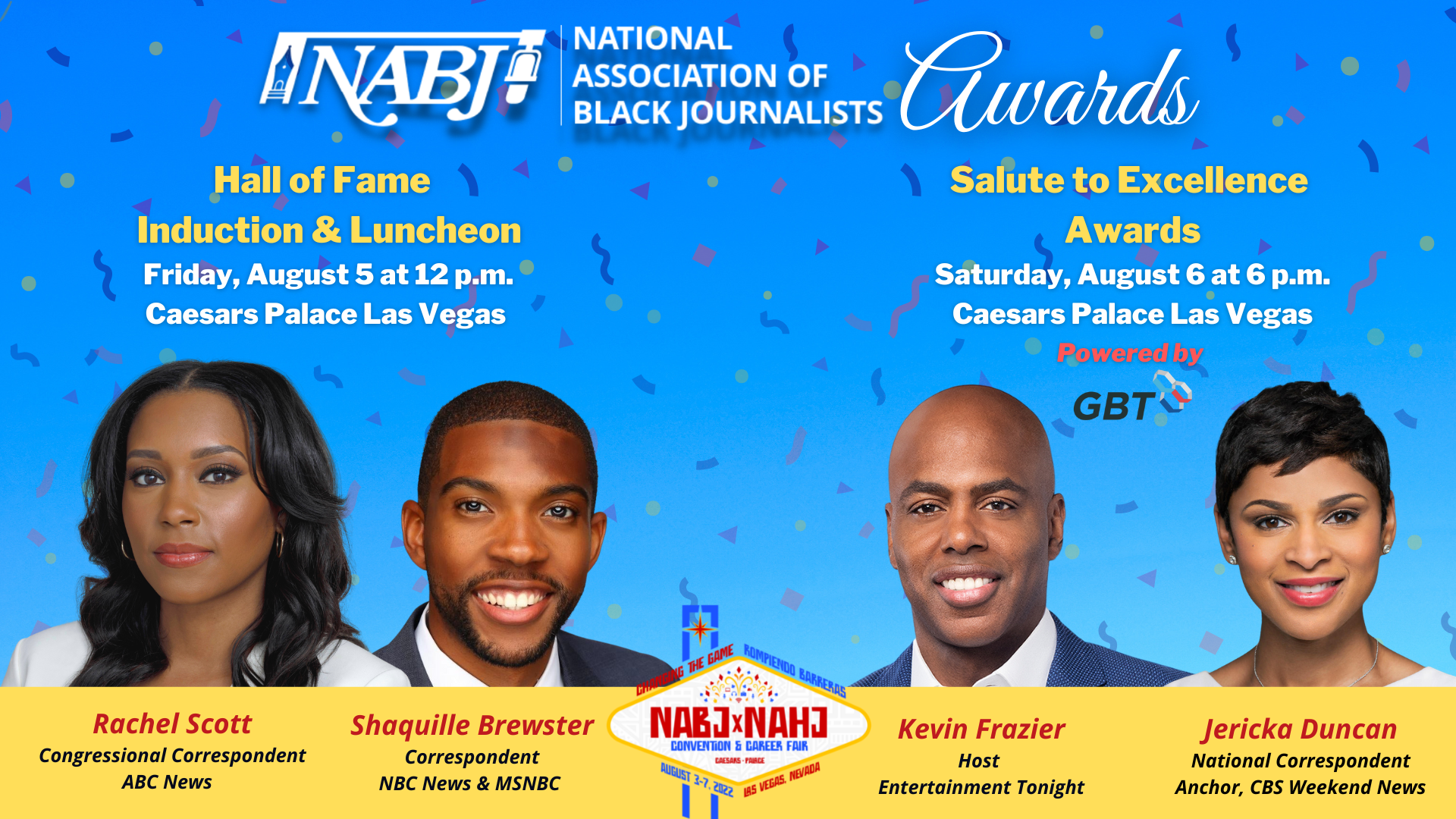 NABJ Brings 2022 Salute to Excellence, Hall of Fame Awards to Vegas
Presenters Include Entertainment Tonight's Kevin Frazier, CBS' Jericka Duncan, NBC's Shaquille Brewster, ABC's Rachel Scott
The National Association of Black Journalists (NABJ) is gearing up for its 2022 awards celebrations. The organization's coveted Salute to Excellence Awards and Hall of Fame inductions will take place during the #NABJNAHJ22 Convention & Career Fair at Caesars Palace Las Vegas during the week of August 3-7. 
The Hall of Fame Induction and Luncheon will be held Friday, August 5, at noon PT. The Salute to Excellence Awards Gala, powered by Global Blood Therapeutics, will be held on Saturday, August 6, at 6 p.m. PT. During the events, NABJ's Special Honors Awards, which honor the accomplishments of Black journalists and those who support the Black community in the media, will also be bestowed upon a total of 15 honorees. Hall of Fame inductees and several Special Honors recipients will be announced later this week.
NABJ's Hall of Fame pays homage to legendary Black journalists and communicators who have made outstanding contributions to the industry. The luncheon will be hosted by Shaquille Brewster, NBC News and MSNBC Correspondent, and Rachel Scott, ABC News Congressional Correspondent. Brewster's reporting as the first NBC News reporter on the ground in Minneapolis following George Floyd's death has been widely recognized as groundbreaking. Scott covered the unprecedented insurrection on Capitol Hill in January 2021 and has been recognized for detailing the disparity in law enforcement's response to the insurrectionists compared to the Black Lives Matter protests.
The Salute to Excellence Awards honors journalism and communications that best cover the Black experience or address issues affecting the worldwide Black community. Entries are judged on content, creativity, innovation, use of the medium, and relevance to the Black community. Nominees will be announced later this month and winners will be announced during the convention. The Salute to Excellence Gala will be hosted by Entertainment Tonight Host Kevin Frazier along with Jericka Duncan, CBS Weekend News Sunday Edition Anchor and CBS News National Correspondent.
Frazier, also the founder of HipHollywood.com, is a prominent voice in Hollywood interviewing its biggest stars including Oprah Winfrey and Beyoncé. He recently co-hosted the 49th Annual Daytime Emmy Awards. Duncan is celebrated for her powerful coverage of equality and justice issues, including interviewing Breonna Taylor's mother while breaking the news to the CBS audience that no one would be charged directly with Taylor's death.
Tickets for both events can be purchased by convention registrants at NABJNAHJConvention.com. Online registration closes July 15 at 11:59 pm ET. Onsite registration is available. View registration guidelines here, including vaccination and mask-wearing requirements.
---
Media Contact: Press@NABJ.org.