NABJ Salutes the Life and Legacy of U.S. Rep. Elijah Cummings
Posted by devano
October 17, 2019 1:01 pm

NABJ President Announces Kathy Chaney as Journal Editor and a New Monthly Newsletter
10/16/2019

NABJ Hall of Famer Gwen Ifill Memorialized on USPS 'Forever' Stamp
10/23/2019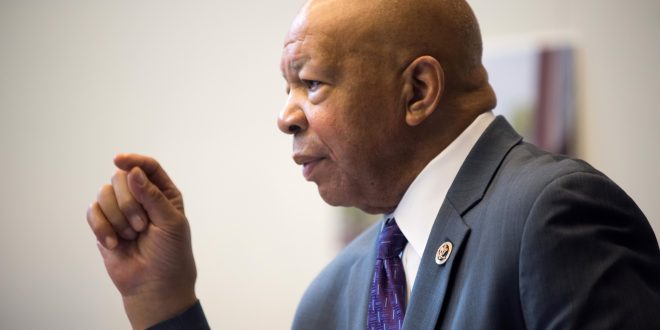 NABJ Salutes the Life and Legacy of U.S. Rep. Elijah Cummings
WASHINGTON (Oct. 17, 2019) — The National Association of Black Journalists (NABJ) mourns the loss of U.S. Rep. Elijah Cummings (D-Md.), an inspirational leader and trailblazer. Rep. Cummings was a friend and champion of NABJ and its cause of media diversity.
A passionate advocate for civil rights, Cummings also fearlessly chaired the Committee on Oversight and Reform, the main investigative committee of the United States House of Representatives. He represented Maryland's Seventh Congressional District since 1996.
Prior to his time in Congress, Cummings made history as the first African American in Maryland's history to be named speaker pro tem during his service in the Maryland House of Delegates, where he served for 16 years.
"NABJ salutes the courage, sacrifice and commitment Congressman Cummings displayed throughout his career and through his work in the community," said NABJ President Dorothy Tucker. "As the keynote speaker at our 2016 Region 1 Conference in Baltimore at Morgan State University, he inspired our attendees and spoke about navigating social justice in journalism as we observed the one-year anniversary of the death of Freddie Gray. Mr. Cummings lived a life that encouraged us all to work harder at making America a better place in the present and for the future."
Cummings also focused on uplifting and empowering the communities he served as well as people of all backgrounds nationwide. He was an important voice in the cause of ending police brutality and gun violence. He was also committed to ensuring quality healthcare and education, clean air, and a strong economy to strengthen underserved communities and to ensure better opportunities for America's children.
Cummings was a graduate of Howard University and the University of Maryland School of Law. He was a member of the United States Naval Academy Board of Visitors and was a former chair and, until his passing, a member of the Congressional Black Caucus. He also served on the Board of Regents at Morgan State University.
———
NABJ Board members are sharing their reflections about Cummings' life and legacy. They will be added below.
"I am proud to have worked under the presence of the Honorable Elijah Cummings, his valuation of Black Lives Matter at the 2016 Democratic Convention positively amplified the movement and his firsthand experience with gun violence placed a personal experience to the issue, thereby moving us all to action. America will miss his fearlessness and his advocacy for all Americans. His legacy will forever impact democracy. My condolences to his family and friends." — Terry Allen, NABJ Media-Related Representative