Why Sickle Cell Disease is a Prime Example of Health Inequity in the Black Community and What Can Be Done to Empower a Brighter Future
Posted by awilkerson
August 8, 2022 1:29 pm
2022 Salute to Excellence Television: Market 16 & Below Winners Announcement
08/07/2022

2022 NABJ Salute to Excellence Winners Announced
08/08/2022
In the U.S., approximately 100,000 individuals are living with sickle cell disease (SCD), an inherited lifelong and devastating blood disorder. SCD disproportionately impacts Black and Brown communities with about 1 in 365 Black or African American babies born with the disease.
SCD affects hemoglobin, a protein carried by red blood cells that deliver oxygen throughout the body.
Beginning at birth, SCD deforms and destroys red blood cells. Instead of floating easily through the bloodstream as smooth, round disks, they contort into a rigid crescent or sickle shape. These sickle cells die off sooner than healthy red blood cells, causing anemia. They can also clump together and block blood vessels, causing pain (known as sickle cell crises or vaso-occlusive crises), organ failure, and early death. On average, the life expectancy of people with SCD is reduced by two to three decades.
In addition to the physical impact of the condition, people living with SCD face profound health inequities marked by poor access to quality care for patients, social and emotional challenges, some of which can be caused by misconceptions and stigmas associated with the condition.
Patients in the sickle cell community are often described as "warriors" because of the strength and determination they use to confront these tremendous and persistent challenges. We can support these fighters by working to address fundamental health equity issues and the social and structural determinants of health that present barriers to care for the Black community.
Racial bias in the U.S. and in the health care system has unfortunately left behind people with SCD. Although we have known the underlying cause of SCD pathologies or damage for over 50 years, it wasn't until recent years that treatment options became available that were developed specifically to help these patients. Compared to other rare diseases that affect fewer patients, such as cystic fibrosis, SCD has been underfunded and neglected.
To better understand the realities of these disparities, Global Blood Therapeutics (GBT) conducted the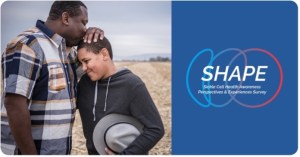 Sickle Cell Health Awareness, Perspectives and Experiences (SHAPE) survey, a global study of more than 1,300 patients, caregivers and healthcare professionals. Results revealed the overwhelming realities and challenges of SCD, including the often misunderstood physical and mental health burdens and impacts on quality of life, access to care and social determinants of health.
The findings highlight the significant impact of SCD on everyday life for patients, including fatigue, pain and mental health problems, in addition to impacting their ability to attend and be successful at school or work, and, thereby reducing their earning potential. In addition, the survey revealed that more than three-quarters of patients (77%) and caregivers (81%) feel that SCD continues to be overlooked by society and is not seen to be as important as other conditions.
"The SHAPE survey adds to the body of knowledge of understanding this physically, mentally and socially damaging, heavily stigmatized disease," said Ted W. Love, M.D., president and CEO of GBT. "Our hope is that uncovering the perspectives of health professionals while elevating the voices of patients and caregivers impacted by sickle cell will help drive more attention about the disease and improve dialogue that can lead to better care."
Knowledge is power. Raising the consciousness of the disparities of SCD is critical to creating a better future for this patient community. The SHAPE survey results reinforce GBT's commitment to transforming the care of SCD and bringing forth tools to help address the long history of injustice and inequality experienced by the community.
It is through partnerships with organizations like the NABJ that we can continue to drive meaningful change and help SCD patients and advocates tell their stories and feel heard.
Together, we can empower a brighter future for this community.
This post was sponsored by Global Blood Therapeutics.
---
The GBT Logo is a registered trademark of Global Blood Therapeutics, Inc. © 2022 Global Blood Therapeutics, Inc. All Rights Reserved.
P-UNB-US-01179v1