NABJ Attracts Thousands During Virtual Convention
Posted by kstewart
August 23, 2021 8:01 pm

Dorothy Tucker Re-Elected President of NABJ and Five Additional Members Join the Board of Directors
08/20/2021

ESPN removes Rachel Nichols from NBA coverage and cancels 'The Jump'
08/26/2021
Conference Brings Navigating the Pandemic and Today's Racial Climate in Media to Center Stage 
The National Association of Black Journalists (NABJ) welcomed 2,519 registrants for the #NABJ21 Virtual Convention & Career Fair, making it among the organization's top five conventions over the last 10 years. With over 140 professional development sessions, workshops, receptions, and masterclasses (and more than 90 job recruiters from national, regional, and local media companies and organizations), attendees heard from over 400 speakers and industry experts on topics that elevated the theme: "Navigating A Digital World – United by Mission, Driven by Purpose."
"This year's convention exceeded our projection of 2,000. So, we under-promised and over-delivered! We had a lot of successful training moments and industry-shifting conversations. We received positive feedback from our attendees and, from many, we heard that the content of our convention was life-changing," said Drew Berry, NABJ Executive Director.
During the convention, NABJ President Dorothy Tucker, an investigative reporter with CBS 2 in Chicago, was elected to a second term and five new members joined the Board of Directors. Read more here.
"Let me say to our members thank you, thank you, thank you for allowing me to lead this incredible organization again. We are ready to get to work and continue our focus on advocating and creating opportunities for Black journalists," said Tucker.
With 11 specialty tracks and other activities powered by the convention's nearly 60 partners and sponsors, and organized by NABJ members, the convention also highlighted challenges and solutions facing Black America and America's newsrooms.
Topics included misinformation and COVID-19; the racial reckoning happening around the country; how to sustain diversity, equity and inclusion changes in news operations; managing mental health in America's crises and during coverage that can traumatize audiences; and the impact of the pandemic on the economy and communities of color.
Among the discussions and conversations:
More than 40 events focused on the power and process of impactful storytelling, news industry insights and the importance of diversity in media at all levels
Nearly 30 events focused on social justice and community issues
More than 20 events on the economy, business, health, and science
And attendees heard from headline speakers such as:

U.S. Vice President Kamala Harris
NIAID Director Dr. Anthony Fauci
Sr. White House Advisor Dr. Cameron Webb
Author and Host Dr. Ian Smith
ABC President Kim Godwin
MSNBC President Rashida Jones
Actor, Author, Entrepreneur Hill Harper
Race & Equality Journalist Delano Massey
Pulitzer Prize-winning Journalist Wesley Lowery
White House Correspondent Eugene Daniels
Basketball Hall of Famer Isiah Thomas
Filmmaker Raoul Peck
Columnist and Pulitzer Prize-winner Trymaine Lee
Television Director and Actress Salli Richardson-Whitfield
White House Deputy Press Secretary Karine Jean Pierre
Baseball Hall of Famer Ken Griffey Jr.
Former Surgeon General Dr. Regina Benjamin
Actor and Advocate Giancarlo Esposito
TV Anchor and Rock'n Robin President Robin Roberts
National News Correspondent Sara Sidner
Talk Show Host Elaine Welteroth
Pro Football Hall of Famer Warren Moon
National Investigative Writer Kat Stafford
TV Host and HipHollywood Founder Kevin Frazier
The public can watch a replay of a sampling of these dynamic presentations on NABJ's YouTube Channel here: https://youtube.com/playlist?list=PL-hu6c4dLdHACoAozXJvytybiOUrI2uzh.
---
Photo Releases and Quotes (Media Contact: Press@NABJ.org)
During NABJ's Newsmaker Plenary, Vice President Harris addressed Black Journalists: "You turn the light of truth on some of the most consequential issues of our time… You are keeping the American people informed about all of the issues that impact their lives every day."
---
From the NABJ Presents Leadership Series:
In the words of Dr. King: "Your subject and verb don't have to agree for you to serve. Trust your journey." –  Kim Godwin
On overcoming prejudices: "Don't let someone else's barriers put barriers on you." – Rashida Jones
---
"Every day, I walk through the White House gates and I walk through the West Wing and it's just an honor to be here and I understand the gravity of being in this position. It's important." – Karine Jean Pierre during the MMCA/STARZ Media Diversity Excellence Reception held at #NABJ21.
---
On race and the portrayal of athletes in America: "Many people think we're (just) talking about sports and the NBA. But we're talking about birthrights, equal rights, and civil rights." –  Isiah Thomas, during the NABJ W.E.B. Du Bois Plenary "The Dilemma of Depicting Racial Trauma as Part of the Modern Black Experience in Media" Powered by WarnerMedia.
---
During the NABJ Newsmaker Plenary: White House Doctors on COVID-19 and the Black Community:
"(We) have one goal in mind … to preserve and protect the health of the people of this country and indirectly of the people in the world. And when you start putting in politics, characters, boogeymen and crazy things, that just distracts from the process." – Dr. Anthony Fauci
"We have to really create a groundswell of public awareness and acknowledgment. We see (hundreds of) kids have died already, so this is not insignificant… We have to create the will locally to drive imperatives." – Dr. Cameron Webb
---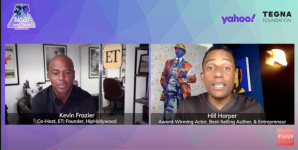 During NABJ's Black Male Media Project: Point of View Powered by Yahoo! and TEGNA Foundation:
"Don't succumb to the pressure to move away from your community … As we make money, we should take it and use it to reinvest in our communities and circulate it, and help build the next generation." –  Kevin Frazier
"I always attempted to play characters that were the smartest in the room. It's important to see Black people adding value from an intellectual perspective." – Hill Harper
---
During NABJ's Newsmaker Plenary: Journalists Covering COVID-19 Reporters' Roundtable:
"The pandemic has broken open racial disparities that have always existed in America. These disparities have manifested in people of color dying at disproportionate rates and the hesitancy with getting the vaccine." – Kat Stafford
---