#NABJ23: Symone Sanders-Townsend, Errol Barnett, DeMarco Morgan, Somara Theodore and Sherri Jackson to Host Convention Awards and Gospel Brunch 
Posted by kstewart
July 29, 2023 1:17 am

NABJ Mourns the Loss of Founder William Dilday
07/29/2023

NABJ to Host a Conversation With U.S. Secretary of Education Miguel Cardona Thursday During Its Annual Convention in Birmingham
08/03/2023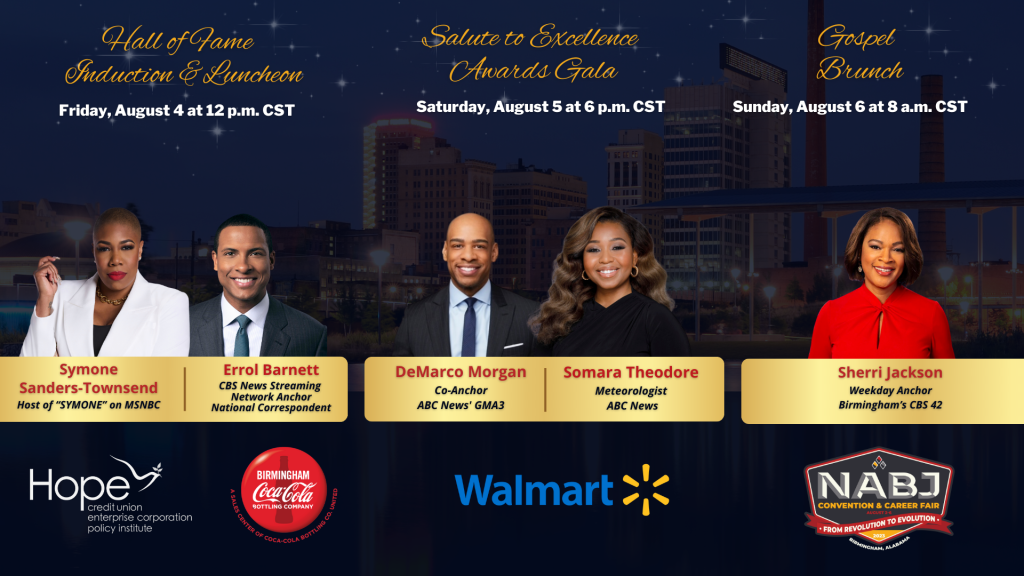 The National Association of Black Journalists (NABJ) is proud to announce its special event hosts for the #NABJ23 Convention & Career Fair, which will take place in Birmingham, Alabama, August 2-6. Tickets for the convention's special events can be purchased by registered attendees by visiting the Attendee Service Center at NABJConvention.com. Registration for the Convention remains open through next week.
Hall of Fame Induction & Luncheon
Symone Sanders-Townsend (MSNBC) and Errol Barnett (CBS News) will host the annual Hall of Fame Induction & Luncheon on Thursday, August 3, 2023 at Noon CST. The Hall of Fame celebration is powered by Hope Credit Union and Coca-Cola Bottling Company United. The induction ceremony pays homage to legendary Black journalists and communicators who have made outstanding contributions to the news and media industries.
Sanders-Townsend is an author, seasoned democratic strategist and host of "SYMONE" on MSNBC and MSNBC on Peacock. She rose to prominence in 2016 as the national press secretary for U.S. Senator Bernie Sanders's then-presidential campaign. After serving as senior advisor for President Joe Biden's 2020 presidential campaign, she went on to serve as a senior member of the Biden-Harris administration serving as deputy assistant to the President and senior advisor and chief spokesperson to Vice President Kamala Harris.
She became the youngest presidential press secretary on record and was named to Rolling Stone magazine's list of 16 young Americans shaping the 2016 election. At just 29, Sanders-Townsend published her first book, "No, You Shut Up: Speaking Truth to Power and Reclaiming America."
Barnett is an award-winning CBS News Streaming Network anchor and national correspondent based at the network's headquarters in New York City. He holds a distinct perspective on global events through a reporting career spanning more than two decades and five continents. Barnett appears regularly across all CBS News programs and platforms and has anchored several CBS special reports. 
From live coverage of the Supreme Court ruling ending Roe vs. Wade and the death of Queen Elizabeth II to exchanges with Presidents Joe Biden, Donald Trump and the U.S. Secret Service, Barnett regularly presses for answers on the biggest issues of our time from wherever they happen.
Salute to Excellence Awards Gala
DeMarco Morgan and Somara Theodore, both representing ABC News, will host the annual Salute to Excellence Awards Gala, powered by Walmart, on Saturday, August 5, 2023 at 6 p.m. CST. A reception for honorees and attendees will be held just before the event at 5:30 p.m. CT. The awards ceremony will honor journalists, communicators and organizations that best cover and tell the story of the Black experience and address issues affecting the worldwide Black community. 
Morgan is co-anchor of "GMA: What You Need to Know" and an ABC News correspondent filing reports for all ABC News programs and platforms, including "Good Morning America" and "World News Tonight with David Muir."  Prior to ABC News, Morgan was co-anchor of KCBS weekday morning newscasts in Los Angeles, where he also reported for all CBS News network broadcasts and platforms, notably anchoring national and local evening newscasts for the CBS Evening Weekend News and WCBS television station soon. Before that he was a CBS News correspondent.
Morgan also previously worked at WXIA-TV in Atlanta, where he spent three years as a reporter and co-anchor, and as a weekend evening anchor for WNBC-TV in New York, while also serving as a cut-in anchor for MSNBC. 
Theodore is an award-winning meteorologist who was recently named as ABC News' third New York-based meteorologist, working alongside a trailblazing team that includes Chief Meteorologist and Managing Editor of ABC News' Climate Unit Ginger Zee and Senior Meteorologist Rob Marciano. She hails from WRC-TV in Washington, D.C., where she served on Storm Team 4 for six years, reporting forecasts on the weekend-edition newscasts, NBCWashington.com, WTOP Radio, as well as NBC's "Weekend Today." 
Prior to WRC-TV, Theodore was the morning meteorologist at WEWS-TV in Cleveland, where she won an Emmy Award for her comprehensive morning Weathercasts. Her career kicked off as a weekend meteorologist for WJCL-TV in Savannah, Georgia.
The Gospel Brunch
Sherri Jackson, weekday anchor at Birmingham's CBS 42, will serve as the host of the annual Gospel Brunch. The brunch will be held on Sunday, August 6, 2023 at 8 a.m. CST. An NABJ tradition, the gathering celebrates gospel music and serves as a closing inspirational program for attendees.
Jackson, a two-time Emmy award winner, is a veteran journalist who has spent two decades telling the stories of the people of Central Alabama. Prior to making her home in Birmingham in 1998, she worked for WGXA-TV in Macon, Georgia, WSAV-TV in Savannah, Georgia, and WSAZ-TV in Charleston and Huntington, West Virginia. 
To learn more about NABJ's convention schedule, events, activities, speakers and special guests, visit NABJConvention.com.
---