NABJ's Advocacy Efforts Successful with The Miami Herald, Richardson Makes History
Posted by kstewart
December 7, 2020 4:30 pm

Jericka Duncan, Adriana Diaz Named Anchors of the CBS WEEKEND NEWS
12/06/2020

Longtime NABJ Member Rashida Jones Promoted to MSNBC President
12/07/2020
Recently, the Miami Herald made a commitment to name a high-ranking Black executive to its management team and they delivered. Today, we learned that The Herald has named the first Black Executive Editor in its 117-year history. Thirty-year veteran and longtime NABJ member Monica R. Richardson, currently serving as Senior Managing Editor at the Atlanta Journal-Constitution, will join the Herald on January 1, 2021.
The move comes after meetings with the NABJ-South Florida chapter and NABJ President Dorothy Tucker.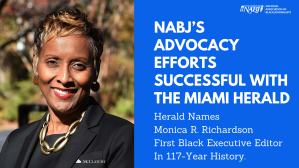 "We congratulate Monica and are pleased that the McClatchy-owned Herald is taking this important historic step to diversify its management ranks. It's a good business decision that will benefit Herald consumers through the production of additional content that appeals to a broader audience. We applaud this move and our local chapter for its work," said President Tucker.  
"This move not only brings needed diversity and inclusion to the boardroom, but it also will help to improve efforts to further diversify the Herald's newsroom staff and coverage overall," added NABJ's Vice President-Print Kathy Chaney.
"This is exciting news—a new era at The Miami Herald. During NABJ's talks with the Herald's leadership team, they were adamant about diversifying key positions. Clearly, they've made good on their promise," noted Russell Motley, NABJ-South Florida President.
Richardson will focus on growing The Herald's audience and digital subscriptions, according to McClatchy, which stated that she would "continue the newsrooms' mission of delivering strong, independent local journalism that is essential to an ever-growing and increasingly diverse audience of readers, viewers, and listeners in South Florida."
Richardson will also oversee el Nuevo Herald and the Bradenton Herald, and operate as McClatchy's Florida Regional Editor.
Read the full announcement from McClatchy here.