NABJ Co-Founder John C. White Passes
Posted by kstewart
November 21, 2020 6:26 pm
The NABJ Roundup Newsletter November 2020
11/20/2020

NABJ Offers New Fellowships with Partners Narratively and Insider, Inc. Apply by Dec. 12 & 14
11/30/2020
-View the memorial tribute program here.
-Viewing: Friday, November 27, from 2-4 pm ET
-Funeral Service: Saturday, November 28, from 11:30 am-1:30 pm ET
-Both will be held at Wylie Funeral Home at 9200 Liberty Road, Randallstown, MD 21133
-For those unable to attend in person, the service will be live-streamed.
-To view the live stream, go to http://www.wyliefh.com, scroll to the bottom of the page.
-Click "view online service" Baltimore County Location.
---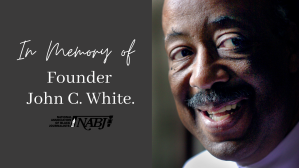 The National Association of Black Journalists (NABJ) mourns the loss of one of our founders John C. White, an accomplished journalist. White died the afternoon of Nov. 21 at a hospital in Maryland. 
"This is truly a sad day for our organization to lose someone who contributed so much to journalism and to our organization. We will truly miss him and are grateful for his impact and legacy," said President Dorothy Tucker.
White began his journalism career as a general assignment reporter with the Afro American newspaper, in Baltimore, while still a student at what was then Morgan State College. Prior to graduating college, John served as an intern and a weekend producer at a local television station. These were the first of many jobs related to one of his true passions in life — journalism.
He was born and raised in Baltimore. He entered the Air Force at the age of 18, and at the age of 22, he left the Air Force and returned to Baltimore to enroll at Morgan State. The following year he got married. At this time he began to work nights full-time at the post office while taking a full load of classes during the day. While balancing it all, he managed to graduate in 1974 with a Bachelor's degree in political science. 
"John's life story is a testament to the power of perseverance and being committed to your family, community, calling, and dreams," Tucker said.
He worked at the Baltimore Evening Sun, Washington Star, Chicago Tribune, Philadelphia Daily News, WJZ TV, and was the press secretary for Washington, D.C. Mayor Marian Barry before Barry's conviction. 
NABJ will have more on John White in the coming days, including arrangements for services when released by his family. The entire organization sends its deepest condolences to the White family.